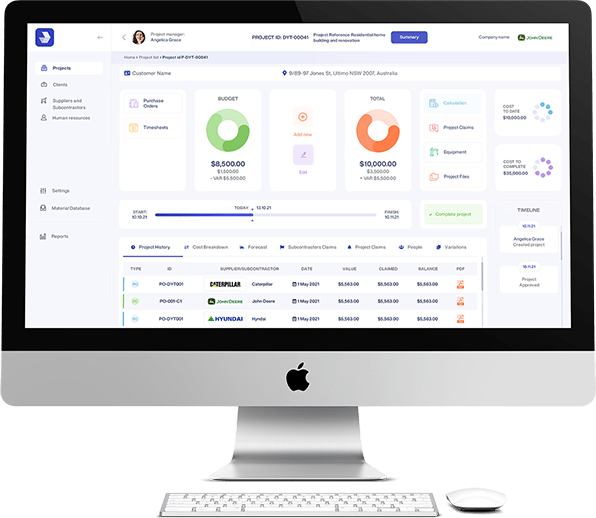 Customer Relationship
Management (CRM)
Software in Sydney
We Create bespoke software for Australian Businesses
Unlock Your Online Potential with theAd – Your Reliable Custom CRM Design
and Development Partner in Sydney! Whether you're in need of a tailored
CRM solution or seeking to optimize your existing one, our experienced
in-house team is here to support you. Join the league of thriving Australian
businesses that have benefited from our expertise in creating custom CRM
systems. Start your journey towards streamlined customer relationship
management today.
The team at theAd did an exceptional job with our website. They understood our unique requirements and delivered a visually appealing and user-friendly platform. Our online presence has improved significantly, attracting more customers and boosting our sales. We highly recommend theAd for their professionalism, expertise, and outstanding service.
We are extremely satisfied with the website developed by theAd. They effectively captured the essence of our brand and showcased our services in an engaging manner. The website design is modern and intuitive, providing a seamless user experience. Working with theAd was a pleasure, and we appreciate their dedication to delivering high-quality results.
The website created by theAd exceeded our expectations. They skillfully transformed our vision into a stunning reality. The design perfectly represents our brand identity and the functionality of the website is flawless. Our online presence has become more impactful, and we have received positive feedback from our customers. We highly recommend theAd for their exceptional creativity and professionalism.
Working with theAd on our website was a fantastic experience. They took the time to understand our goals and crafted a website that perfectly reflects our brand. The team's attention to detail and creativity resulted in a visually striking and highly functional website. TheAd's expertise in digital marketing also helped us expand our reach and achieve significant growth. We couldn't be happier with the results and highly recommend their services.
WE WORK
HOW WE WORK


in Sydney and elsewhere
theAD: Your Digital Agency for Web Design in Sydney, NSW.
We are your on-demand, all-in-one digital department in Sydney, NSW.
CASE STUDY
CRM
for Student visa agency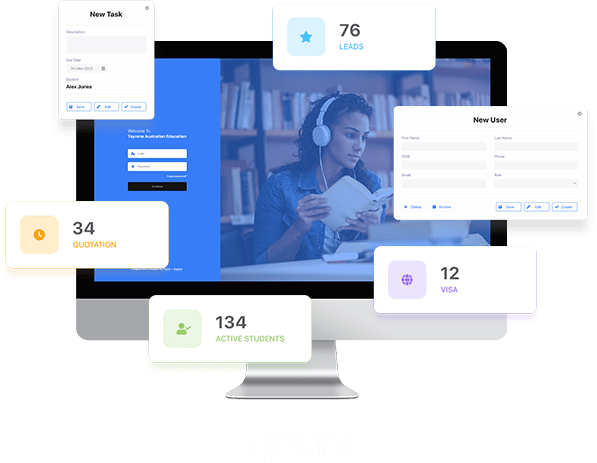 At theAD, we take pride in supporting local businesses and helping them streamline their operations. A great example is TA Education Company, where we created a custom CRM solution to manage their visa processing. This solution allowed them to scale up their operations without losing control over their business processes and effectively handle the increasing number of visa applicants.
The software was designed and developed with a clear understanding of their business processes, facilitating all existing activities and providing real-time customer management. With our custom CRM solution, TA Education Company now has a clear picture of their business activities and can efficiently manage their customers.
5 Must Have Features for Customer
Relationship Management (CRM) Software
1
Contact
and Lead Management:
A robust CRM should offer comprehensive contact and lead management capabilities. This includes storing customer information, tracking interactions, and managing leads throughout the sales pipeline.
Efficient contact and lead management ensure that no opportunity is missed and enable your sales team to effectively nurture and convert leads into customers.
2
Sales
and Opportunity Tracking:
Tracking sales activities and opportunities is essential for effective sales management. A CRM should provide features to track sales stages, manage deals, and generate accurate sales forecasts.
This enables your sales team to prioritise their efforts, identify bottlenecks, and make informed decisions to drive revenue growth.
3
Integration
and Data Synchronisation:
Seamless integration with other business systems, such as email platforms, marketing automation tools, and accounting software, is vital for a CRM solution. It allows for efficient data synchronisation, eliminates manual data entry, and provides a unified view of customer information across different touch-points.
Integration capabilities ensure that your CRM works seamlessly with your existing software ecosystem, maximising efficiency and productivity
4
Reporting
and Analytics:
Effective CRM software goes beyond basic data collection and offers robust reporting and analytics features. It should provide real-time insights into key performance metrics, such as sales trends, customer behaviour, and campaign effectiveness.
Customisable dashboards and visual reports empower business owners and managers to make data-driven decisions, identify opportunities for improvement, and drive strategic growth.
5
Customisation
and Scalability:
Each business has unique needs, workflows, and processes. A flexible CRM solution should allow customisation to align with your specific requirements. From custom fields and workflows to personalised dashboards and user permissions, the ability to tailor the CRM to your business ensures optimal usability and productivity. Additionally, scalability is crucial to accommodate your business's growth and evolving needs.
A CRM that can scale with your business ensures long-term viability and avoids the hassle of migrating to a new system as your operations expand.
Investing in a CRM software solution is a game-changer for businesses looking to strengthen customer relationships and boost profitability. With theAd's expertise in software design and development, you can leverage these five must-have features to supercharge your CRM strategy.
Our team is committed to creating custom CRM solutions that align with your unique business needs, providing seamless integration, powerful reporting, and scalability. Embrace the power of CRM and unlock your business's full potential with theAd.
Keywords: Software Design and Development, software development Sydney, custom software Sydney, bespoke software development Sydney, custom software development Sydney, software development agency Sydney, software development services Sydney, software developers Sydney, custom software development company, software development services Sydney, custom software development services.
Frequently Asked Questions (FAQs)
Customer Relationship Management (CRM) Software