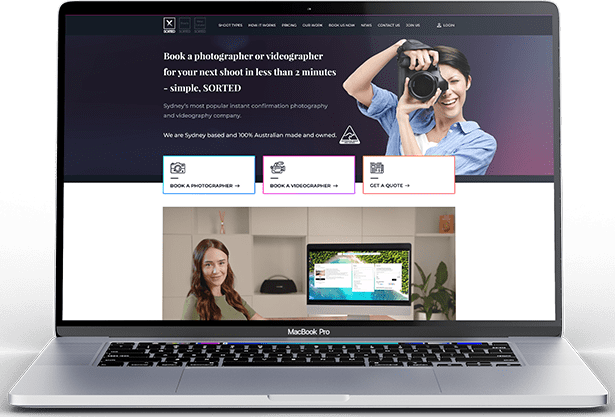 Our mission is to make websites accessible
and inexpensive for small company owners.
web design
web design and development
in Sydney
Nowadays, all businesses deliver their services and goods to their customers online. And to make your business successfully run online, you need to protect your brand with a web design that is beautiful and professional. And the fact is, clients, look at your website before deciding to work. However, did you know that a website with numerous problems, such as a slow loading time and lack of mobile-friendliness, will ultimately see fewer visitors? That's why we are here to give your website value and a purpose so that it can increase sales for your company.
We are a Sydney-based company known for delivering outstanding web design and development services with highly trained professionals. Our hassle-free guided process will embrace you at every step. Working with us will provide web development in Sydney that meets all of your requirements and deliver your website with top-level functionality. Our team of professionals will manage security, backups, and plugins for you. We'll keep complete track of your website and will operate it efficiently.
Create Digital Experiences
to inspire customers
▸ Services we offer
Our web design professionals will assist you with service providers, e-commerce, events, and membership websites. Here is what you need to know more about our services.
▸ B2B Website Design
A business-to-business website is designed for businesses that want to target other businesses or professionals as customers. This type of design needs to be created with care as it depicts the face of the company.
▸ Landing Page Design
Landing pages can also be referred to as sales pages or lead generation pages. A landing page is a web page that is intended to elicit a reaction from website visitors. A landing page's objective in terms of online traffic is to grab the attention of website visitors and turn them into prospects for your business. It can be challenging, if not impossible, to transform website visits into leads, therefore it's critical to understand how to optimise your landing page to boost conversion rates.
▸ One-Page Web Design
Regular web pages and one-page websites are generally similar to one another. They may be established and handled more quickly than a site with several pages. Additionally, they load faster and use less bandwidth, which improves speed and performance. Additionally, visitors who do not want to spend a lot of time browsing various web pages find them to be frequently more visually appealing.
▸ Events-Based Website Design
The website develops for individual events, which range from house parties to seminars, conferences, etc. The primary reason for this website is to offer a platform where users can purchase tickets. For any event, the website is created mainly for the ticketing process.
▸ E-commerce website
These websites work to deliver customers with a platform where they can buy and sell physical goods, services, and digital products over the internet. Businesses' primary focus is on simplicity and functionality rather than visuals.
▸ Blogs and Article Web Design
This type of website is new in the world of web design. Magazine-style website designs have an image and content on both sides of the page. This website has an engaging interface, which can be suitable for your business if you have a strong brand presence.
▸ Blogs and Article Web Design
A blog-style website allows you to post articles, news, and updates regularly. Many businesses use these websites to connect with their potential customers by providing related information, and some use them to promote their products or service.
▸ Web Design for Online Courses
There are many reasons why new businesses are using learning management systems today. You can consult our professional web design agency in Sydney for online courses. A student, teacher or mentor, anyone can use the website.
▸ Membership Website
A membership website contains content that is only accessible to members. These websites are used by multiple non-profits, associations, and even businesses. These sites charge monthly fees for access to their media and content.
What Are the Elements Used
in Design Building?
You need a website that immediately captures the user's attention
and improves the experience on any device. And for these things,
you need to create a website with all the essential elements
required to develop a website.
We will offer you our excellent services
to produce the best outcome.
▸ Unique Typography
Typography is a demographic principle used to communicate your message to consumers. It helps identify the business from its consumers. There is an extensive collection of fonts that you can choose to make it easier for your businesses to express the brands. And we offer you the best services when it comes to typography.
▸ Engrossing high-quality Images
Providing high-quality engaging images on your sites will depict different features and parts of your product or service. Users on your site will have an incredible experience as a result. We strive to work for our client's requirements and provide trustworthy high-quality images on the website.
▸ Social Media
Social Media is an easy way to connect with customers on social platforms. Your customers can share the blogs or articles on different social channels. Our team of professionals will work best to optimise your website and provide your social media channels on the website for more traffic.
▸ Background Videos
Videos that play in the background can add a lot of intrigue to the page. It delivers different messages to the customers and helps make your website engaging. In order to boost engagement, you should work on providing professional videos. When it comes to your website's background videos, we are here to assist.
▸ Site Map
A site map is a list of a website's web pages, often organised hierarchically. Before a website is launched, designers create site maps. Moreover, it provides users with easy navigation across a website by identifying the locations of various sections and delineating their structure.
▸ Google Reviews
In order to give customers valuable insight into your company, multiple web designers use Google Reviews. Ratings will help people build trust in the services you provide. To provide consumers with better insights, we will ensure that your company's Google reviews appear on the website.
▸ Speed Optimisation
Speed is an essential element of a website. Being an experienced website development company in Sydney, we recommend you optimise the speed to reduce the duration of time between clicks and content. We will take care of speed optimisation and deliver the best services to you.
▸ Mobile-Friendly Layouts
Design a website where mobile users can visit your website. Traffic on your website will be more because most people these days are using mobiles only. Create a website which is desktop as well as mobile-friendly. If you are not capable enough, we are here to make your website mobile-friendly.
▸ Google Map
Google Maps is essential to guide visitors about the physical store. It will attract new customers. Our services will help you integrate Google Maps and provide an incredible experience for the customers. Avail our services and ensure more reach to your online and physical store.
Highest-rated web design
company in Sydney
Brand Building
Our web design professionals will assist you with service providers, e-commerce, events, and membership websites. Here is what you need to know more about our services.
Advertising Strategy
Web development in Sydney is an important aspect, but with that, Digital advertising about your business is also necessary. There are three strategies to drive visitors to websites, and each has advantages and disadvantages. When you take the time to carefully create your ad text comprehend the demands of your target audience, and choose the best advertising technique. It can significantly affect how well a digital advertising campaign performs. The Ad agency will create a great advertising strategy for your business.
Digital Marketing
Digital Marketing is another visible way to promote any business. SEO, Content, Social Media, and blog posts are some of the ways helpful to gain a digital presence for a business. When you have a significantly optimised website with all the elements, you can successfully shape the image of your business. With the help of our assistance, you can amplify your marketing reach. If you are looking for a digital marketing agency, you can consult our team of professionals.
Choose
We are a team of professionals in website design and development. We are a Sydney based well-known company turning your ideas into websites and websites into a successful businesses.
Being Australia's leading web design agency, we work with clients and have showed up great results for the past many years.
We strive to be a top website designer by building standards-compliant, search engine-friendly sites that attract attention, are memorable, enhance the brand, and improve traffic, lead generation, and sales. We take great pride in assisting our clients in projecting their best selves.
The Ad!
Your first choice for site design and development should be The Ad agency.
We offer a wide range of services for businesses looking to
gain a competitive edge.
Our team of experts has years of expertise and works tirelessly to
give clients the greatest website designs. If you are searching
online for a reputable web design firm in Sydney, don't delay to
give us a call for the best service.
Get more information about our services
by visiting us today!
We know you have more questions, Simply fill out the form below
and we will be happy to give you the answers.